This shop has been compensated by Collective Bias, Inc. and its advertiser. All opinions are mine alone. #HappierFirstMoments #ForBetterBeginnings #CollectiveBias
Since this is my 4th time around, I have some simple tips for feeding your little one, including 5 items to add to your registry! Playtex VentAire® bottles are always the top of our Target list!
Sing along with me: it's the final countdowwwwwn! Yes, that's right, we're counting down the final days of my final pregnancy. It truly has FLOWN by. As we're scrambling to make sure this little guy has everything he needs, I'm also trying to enjoy every last moment. Yes, I'm swollen. Yes, according to my Fitbit, I'm restless 65+ minutes a night.
This 3rd pregnancy (4th baby…I have twins) has been so different that the others. I'm older, wiser and I have 3 other helpers. In an effort to include the girls as much as possible, I've been answering alllll of their questions and letting them help me with the shopping and prep.
With every pregnancy, I start a registry. Not for people to plan a shower from, but for the DISCOUNTS. Not all baby gear goes on sale and the bonus money off really adds up. Target is my favorite because you can combine sales, Cartwheel percentage off AND the completion discount. They give you a fun little goody bag for signing up, too!
We have been fans of the Playtex VentAire® bottles since the twins were babies. Maddie had acid reflux and any way to alleviate those painful gas bubbles, we tried. The VentAire bottles are BPA-free and use the NaturaLatch nipple, which makes the transitions from breast to bottle easier. The VentAire bottles help with colic and reflux!
Right now, there is a great gift card deal at Target for Playtex bottles. I love when they have these special offers! I turn around and use them for other items I need, like burp cloths, onesies or even more bottles. Deal: buy 2, 3-packs of Playtex Baby Bottles and get a $5 Target GiftCard back. This runs until 7/14, so you have plenty of time left!
Last trip to Target, Gabby helped me pick up both the 6 and 9 ounce VentAire bottles. They had a fun sample bottle for her to check out and she had plenty of questions for me. "Why don't babies drink chocolate milk?" and "Can I feed my brother, too?".
I quickly explained that they all can help me wash and store the bottles, even get me snacks while I'm feeding their brother, but only Mom or Dad can feed the baby. I just pictured Gabby trying to feed the baby while he's sleeping in the bassinet. Oy!
Interested in buying the Playtex VentAire bottles? Click on the photo below to check them out on the Target website!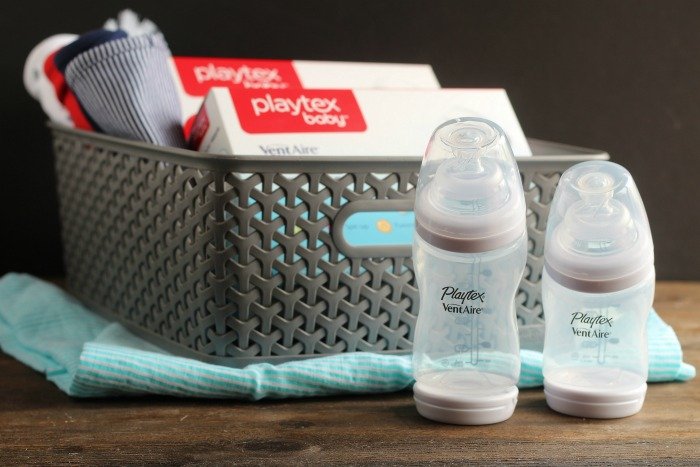 Aside from VentAire bottles, here are my top 5 must have items for feeding time
Burp Cloths. We have them stationed all around the house. While the patterned ones are cute, I tend to use just plain old cloth diapers the most. They're absorbent and cheap! You can find them at Target!
Bottle Sponge. Sometimes, bottles are hard to clean. I love that the VentAire has a removable bottom, it allows my girls to easily help me clean them! I get 3-4 bottle sponges to swap out monthly.
Drying rack/storage. Try to find a place to keep all feeding items together. A cute basket like my gray one above is perfect! Nothing is worse than fumbling in the dark at night looking for nipples or bottle parts. I like to use a plain dish trying mat after hand washing. You can sterilize in the dishwasher, too, but be sure to get a basket for the rings and nipples so they don't fly around the washer.
Pillow and comfortable feeding area. We have a glider set up with a feeding pillow. That will be our prime area for when it's time to eat. It's great to have a way to prop up your feed and be sure to have plenty of burp cloths handy!
Tiny notebook or tracking app. I'm old school and like to write things down on paper, but there are plenty of apps out there too. I like to keep a daily note of feeding times, ounces fed, wet diapers and any other notes. This is helpful for when you go to the doctor and for eventually setting up a schedule. Usually when you're having sleepless nights, it's very easy to forget what happened! A tiny notebook is easy to throw in a diaper bag or carry around the house.
Do you have any feeding must haves for your baby registry?
Save
Save